Kurt Donald Cobain was born a Pisces on February 20th, 1967 to Donald and Wendy Cobain in Aberdeen, Washington. He spent his first six months living in the city of Hoquiam before moving to Aberdeen. Early in his life, Kurt developed a strong interest in music, "singing from the time he was two" according to his Aunt Mari. Kurt had a lot of charisma and charm at his age, and would sing Beatles songs such as "Hey Jude".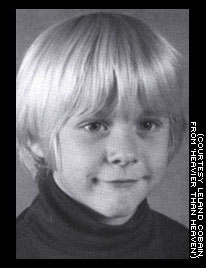 Kurt Cobain in 1st Grade, photo courtesy of Leland Cobain
After Cobain's parents divorced in 1975 when he was just eight years old, his mother noted that his personality changed dramatically, with Kurt becoming more and more withdrawn. Kurt himself later cited the divorce as an event which had a profound impact on his life. In an interview conducted back in 1993, Kurt said "I remember feeling ashamed, for some reason. I was ashamed of my parents. I couldn't face some of my friends at school anymore, because I desperately wanted to have the classic, you know, typical family. Mother, father. I wanted that security, so I resented my parents for quite a few years because of that."
Kurt's childhood was often spent living between friends, family and aquaintances, and even under a bridge along the Wishkah River according to Kurt himself, an experience that eventually led to the Nevermind track "Something in the Way". For his 14th birthday, Cobain's uncle gave him the choice of either a bicycle or a guitar as a gift, and Kurt chose the guitar. After learning just a few covers, including "Back in Black" by AC/DC and "My Best Friend's Girl" by The Cars, Kurt soon began working on his own songs.
Kurt had difficulty making friends and finding people to jam with in high school, but often hung out at the Melvin's practice space. It was here that he met Krist Novoselic, a fellow devotee of punk rock. Novoselic's mother owned a hair salon where Cobain and Novoselic would occasionally practice. Kurt tried to convince Krist to join him in a band by lending him a copy of a home demo recorded by Kurt's earlier band, Fecal Matter. Krist Novoselic finally joined Kurt Cobain and formed the band Nirvana after months of persuasion from Kurt.
After just a few years of playing together and constantly rotating drummers, the band settled on Chad Channing, with whom Nirvana recorded the album Bleach, which was released on Sub Pop Records in 1989. Kurt was somewhat dissatisfied with Channing's style of drumming, so the band once again set out for another drummer, this time settling on Dave Grohl. With Grohl behind the drums, the band took even more shape and found their greatest success with their major-label debut in 1991 with the album Nevermind.
Cobain had a great deal of difficulty appreciating the massive amount of attention and success Nirvana would become and also felt persecuted by the media. He also had difficulty with many of the fans, who he felt were completely missing the point of the band's message.
During a performance in 1989 at a show in Portland, Oregon is where the beginning of the end of Kurt's life would come to fruition after Courtney Love saw him and developed a crush on him after they talked briefly. The pair were formally introduced at a L7/Butthole Surfers concert in Los Angeles in May 1991. Courtney learned that Kurt and her had shared a mutual crush on each other and she began pursuing Kurt. The two often found themselves together, bonding through drug use.
Courtney Love discovered that she was pregnant with Kurt Cobain's child around the time of Nirvana's famous performance on Saturday Night Live back in 1992 and on Monday, February 24, 1992, Kurt Cobain married Courtney Love on Waikiki Beach in Hawaii. This, to me, and many of Nirvana's fans was probably the beginning of the end for Kurt, so instead of talking more about his life, we need to shift gears and focus on getting the investigation reopened. As you'll see in the next section of this story, there is an overwhelming amount of evidence to suggest that Courtney Love killed Kurt Cobain.
Who Killed Kurt Cobain? Although Kurt's death was ruled a suicide, there is more than enough evidence to support the fact that Kurt Cobain was probably murdered, and there is an overwhelming amount of evidence to suggest that Courtney Love had an increidbly strong motive and reason for doing so.
Who Killed Kurt Cobain? Read Further...
Watch the video for Nirvana's "Come As You Are", compliments of MTV

"Susquehanna River Sunset at Duncannon, PA | ©2008, Stephen Conklin, Jr.