Astrology - Pisces - Pisces Astrochart
The following Astrochart was prepared specifically for myself, or possibly my exact twin if one exists.

Pisces Astrochart for February 20, 1977, 5:12 PM, Harrisburg, PA
Sun position is 2 deg. 10 min. of Pis
Moon position is 5 deg. 08 min. of Ari
Mercury position is 14 deg. 38 min. of Aqu
Venus position is 15 deg. 33 min. of Ari
Mars position is 8 deg. 50 min. of Aqu
Jupiter position is 23 deg. 21 min. of Tau
Saturn position is 11 deg. 58 min. of Leo
Uranus position is 11 deg. 46 min. of Sco
Neptune position is 15 deg. 58 min. of Sag
Pluto position is 13 deg. 50 min. of Lib
Ferociously proud and somewhat vain, I like to be impressive and known for who I am, very unique. I am not timid, meek, or self-effacing, and am rarely content being in the background or in the subordinate position. I am a natural leader, and do not take orders from others very well. I must have something of my own, something creative - be it a business, a project, a home or whatever - that I can develop and manage according to my own will and vision. Whatever I do, I do it in a unique, dramatic, individual way, putting my own stamp on it.

I also have a very strong sense of dignity, self-respect, and personal honor and am deeply offended if someone treats me in a humiliating or dishonorable way. I will rarely confront the offender - I am too proud to do so - but I will lose my affection and respect for them. I dislike pettiness and hate to be snubbed or ignored. [continued below]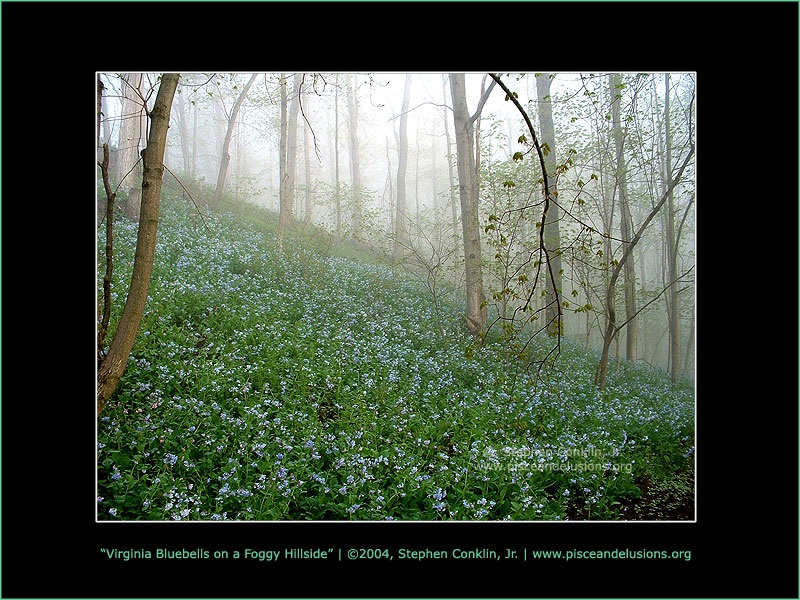 "Virginia Bluebells on a Foggy Hillside" ©2004, Stephen Conklin, Jr.
view larger size | order online
I admire others who are strong individuals like myself. When I befriend someone, I am tremendously loyal, sincere, and willing to go to extraordinary lengths to make that person happy. I am very giving and generous, but my gifts are rarely anonymous - I enjoy recognition and appreciation for them. I also expect the intense loyalty that I offer to my dear ones to be reciprocated. However, I often have trouble working with people who are as strong as myself, for I do not really cooperate or share the leading role very easily. If I am not in the leading role, I aspire to be and will compete with the person who is.
I have great heart and courage, and people often look to me for strength, encouragement, and affirmation. I always have my best face forward and rarely allow others to see me hurting, disheartened, or vulnerable. I also have a very strong need for love, admiration, appreciation, and praise, although I don't like others to realize just how important it is to me.

My outlook on life tends to be very personal and rather self-centered. My own self-expression, self-actualization and self-realization interests me more than anything else.

At heart I am very gentle, impressionable, and receptive - a dreamer. The world of my imagination, feelings, and intuition is as real to me as anything in the outer world, though I may have trouble verbalizing or interpreting my inner experiences in a way others can understand. Mystical, artistic, musical, emotional and imaginative, I have a rich inner life, though I may seem rather unobtrusive and quiet outwardly. I usually keep to myself. [continued below]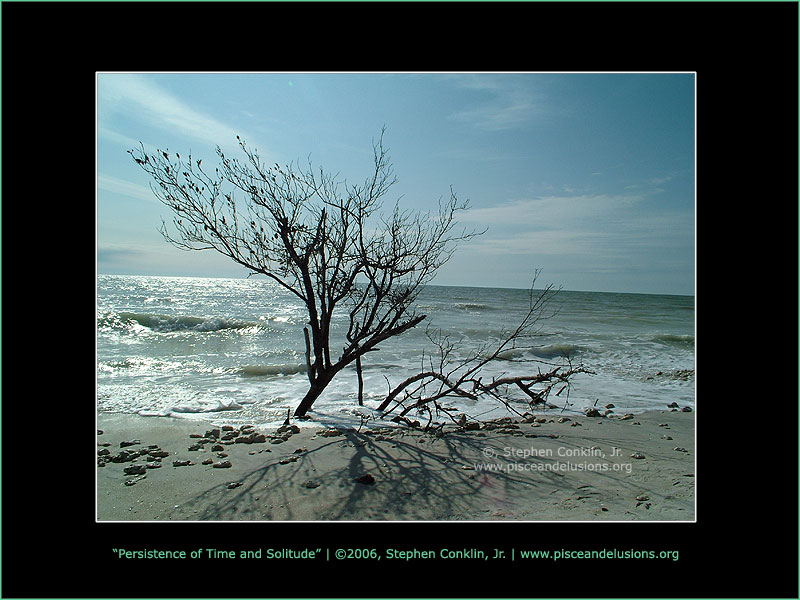 "Persistence of Time and Solitude" | ©2006, Stephen Conklin, Jr.
view larger size | order online
I have great sensitivity and empathy with others, and I often sense things psychically or intuitively which prove to be correct. I am tolerant, forgiving, and nonjudgmental, accepting people unconditionally regardless of their flaws, mistakes, or outward appearance. I have deep compassion for the suffering of any fellow creature and often feel others' pain as if it were my own. I sympathize with the needy, the disadvantaged, the misfits of society. I am capable of giving selflessly, living a life of devoted and compassionate service to others, as a healer, physician, social worker, or minister. However, I tend to give indiscriminately, to let others take advantage of my kindness, and to encourage the weak to remain so by becoming dependent upon myself. I have little sense of boundaries, of limits, of knowing when to say "no". Moderation and self-discipline are not my strong points.

I am a lover and a peace-maker rather than a fighter, and I try to avoid open conflict. I will patiently ignore or "tune out" problems and hope they will go away by themselves, rather than directly confronting them, and I tend to lack the positive fighting spirit that is sometimes necessary to overcome challenges. I am fluid, open, nonresistant, and somewhat passive. I do things in a subtle, often covert, manner.

My gifts may also lie in the realm of the creative, artistic, or musical, for I have a great sensitivity, inspiration, and limitless imagination. I respond very strongly to beauty and to love.

My faults include a tendency to be lazy and negligent when it comes to things I deem to be unnecessary. I also tend to become so detached from my immediate environment that I live in a disorderly, chaotic sort of dreamland, where often I need someone to pull me back down to the ground before I drift too far away from reality.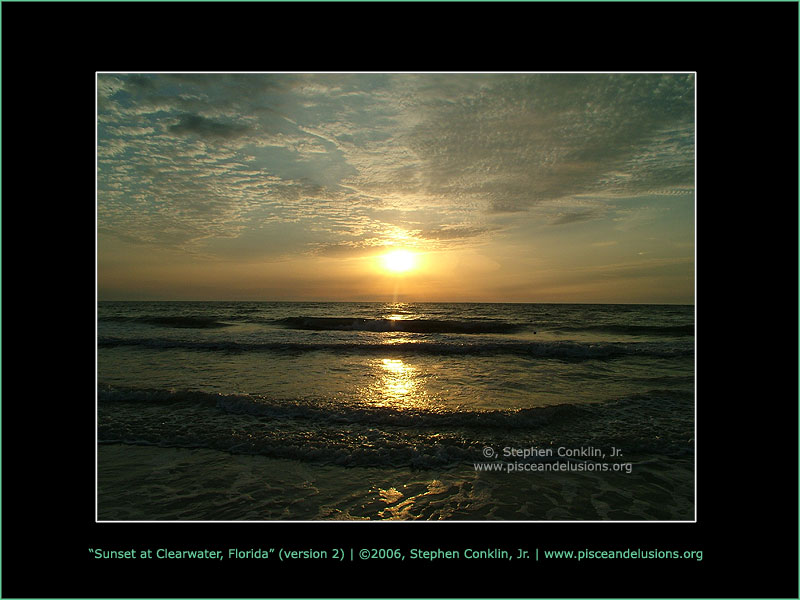 "Sunset at Clearwater, Florida" (version 2) | ©2006, Stephen Conklin, Jr.
view larger size | order online