Astrology - Pisces - Pisces and Karma
Pisces is called the Poet of the Zodiac for its dreamy, impressionistic view of the world, its romantic, idealistic ways and desires. As ruled by Neptune, the Planet of Illusion, those born under the Pisces influence tend to live inside their own minds a great deal of the time and have a largely subjective point of view. [continued below]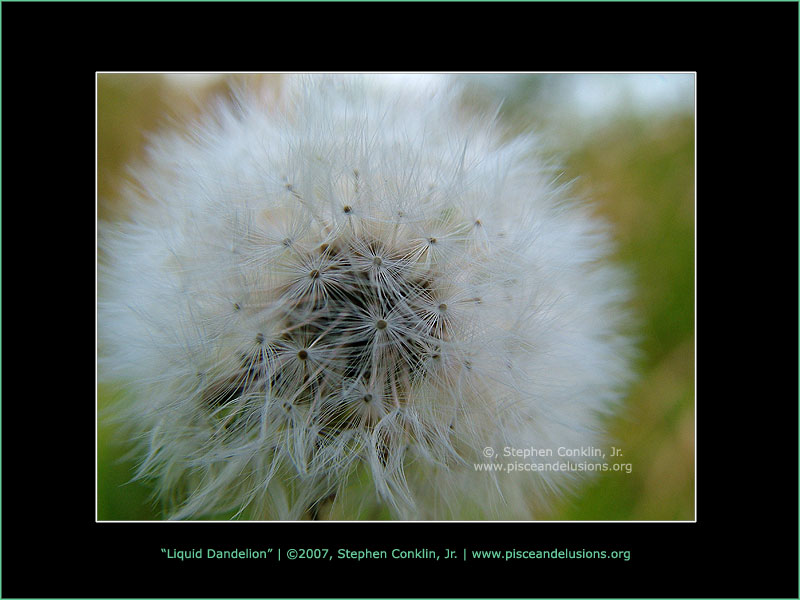 "Liquid Dandelion" | ©2007, Stephen Conklin, Jr.
view larger size | order online
Pisces is deeply emotional and intuitive, often even psychic; it is a loving, giving and rather passive Sign with a real sense of the mystical side of life. Pisces has tremendous resources of empathy and compassion for others; the trouble is, with so much trouble remaining objective, Pisces may give far too much of itself to someone who is simply playing on its sympathy. This is Pisces's first Karmic task: To erect solid boundaries as a prevention against allowing all personal energy to be drained by serving others' needs, filling up others' voids and playing into others' sob stories.
Pisces's gift of connection is both a blessing and a curse; on one hand, it is the gift that makes this Sign such a noble, nurturing friend and lover, but on the other hand it gives Pisces a certain malleability of persona that is easily taken advantage of. Others may see Pisces as a pushover or a doormat, since this Sign tends to submit so readily to another's power or point of view. Pisces may also be overly dependent on others for guidance, structure or a sense of stability. Pisces must learn to ground itself -- and this is no small task for such a deeply emotional Sign.
Pisces is so emotional, in fact, that it can tend toward depression or fatalism; the weight of the world can be too much to bear for someone so sensitive. Many Pisces turn to escapist pursuits as a result; daydreaming is one rather innocuous form of escapism and creating works of art is quite a positive form, but Neptune also rules more powerful and destructive escapist pursuits like addiction, delusion and deception. In short, Neptune rules the intangible, so Pisces must connect with the tangible in order to maintain a healthy balance.
Pisces's tendency toward depression is also based on its unwillingness to dwell in the mundane world. Things like paying bills on time, keeping appointments and maintaining a full-time job can overwhelm Pisces as they work against its basic nature.
Pisces doesn't exist on a linear plane of ticking clocks and scheduled activities; this Sign is far more free-form than that. Thus, Pisces tends to be impractical, which can lead to real trouble with bosses, bill collectors and others who expect Pisces to follow their rules.
It is impossible never to enter the mundane world; Pisces must learn to navigate its way safely and effectively through the maze of day-to-day experience and to set aside time in which to indulge its ethereal nature. This is a rather tall order, but need not be overly daunting; Pisces lends so much help to others, it can feel good about asking for help in return.
Gemini can teach Pisces to take a less emotional, more intellectual view of people and situations; this will help Pisces decide which pleas are deserving of attention and which are merely sob stories to be ignored.
Virgo can help Pisces learn to be detailed and efficient, and enthusiastic Sagittarius can help Pisces learn to turn all that abstract emotionalism into optimism and adventure.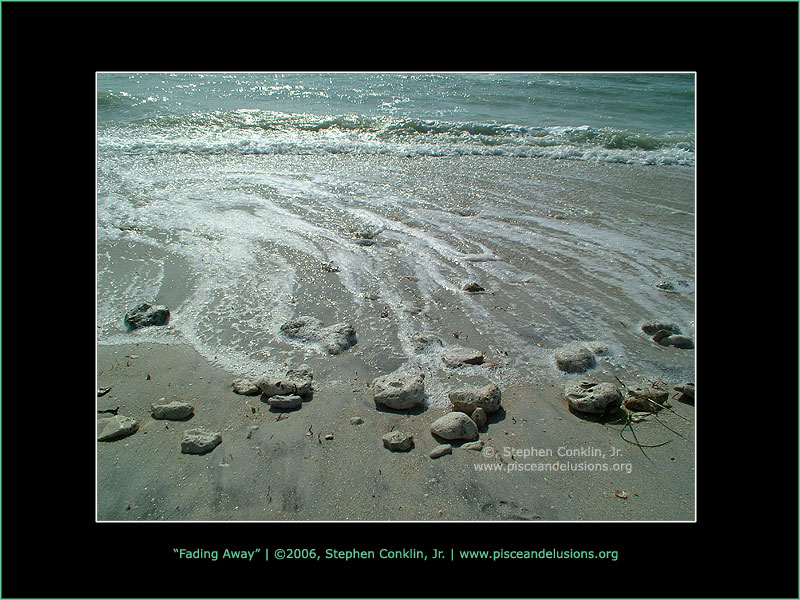 "Fading Away" | ©2006, Stephen Conklin, Jr.
view larger size | order online