Quartz Crystals - Shapes, Meanings, Uses, Cleansing, History and info

crystals in history and modern times
Crystals are one of Earth's greatest treasures as they possess many energies and abilities based on their shape, type, size and more. Their matrixes follow the patterning of Sacred Geometry. Many crystals are as old as our planet, and some people refer to them as the Record Keepers of the planet.
All crystal and gemstones are living, as they slowly grow in clusters and have a life energy of their own. Most of them are in nature and part of the mineral kingdom, and unfortunately, some are synthetically produced, although they can't match the capabilities of the true mineral counterparts from our Mother Earth.
One of earth's most common minerals. It is also known as rock crystal or quartz crystal. Clear quartz crystals facilitate wisdom, clarity of thought, general healing, memory, meditation, communication, transformation, awakening, cleansing, pureness of heart, intention, higher consciousness, positive thoughts, harmony and love. This stone amplifies prayers, wishes and positive visualizations. Blue quartz crystals grant spiritual insight and enlightenment, peace and serenity. They also encourage emotional clarity and purity.
Probably the most versatile multi-purpose healing stone. Easy to cleanse, store information or energy in, program or amplify energy and heal with. It can both draw and send energy. Powerful clear ones open Crown Chakra, good for meditation, sending or receiving guidance. Stimulates natural crystals in body tissues and fluids to resonate at new healing frequency. Yin or Androgynous. Works with all chakras and master gland. Powerful for sending and advanced specialized uses. Universal conduit. Amplifies, focuses, stores, transforms, energies. Perfect for focusing affirmations and prayers. Stimulates psychic perception. Teaches each person at their own level, and at their own speed. Empowers. Attunes to all chakras, all signs, and all numbers
Vibrating to their own frequency, humans often find the crystal that is right for them by the way it feels. As we further our spiritual development, our needs change as well as the crystals we use.
Sometimes a crystal will come to you with images in them, and will often become smoky after you work with them. It is said that these projections are from your mind to the crystal, and most crystals will change during the years they are with you.
Once you have the crystal or crystals you will be using, it is important to cleanse them from any negative vibrations or energies they may have absorbed before they made it into your possession.
There are many techniques that can be used in order to properly cleanse your crystal, I follow a sacred technique that was introduced to me by my spiritual guide who I believe is a shaman.
On the evening of the full moon, I delicately place my crystals in a salt water mixture in a dish and place them outside under the moonlight where it will have maximum exposure, usually from 6 pm that night until 6 pm the following day. This way the stones usually get at least 12 hours of direct moonlight. During the entire process I meditate and focus my energies and thoughts on the cleansing of the stones.
After the first 24 hours in salt water, I use well water or if I am out in the woods I prefer to use spring water right out of the ground to rinse them. Then I fill the dish with the fresh water and put them back under the moon for an additional 24 hours.
After soaking the crystals for both nights, the crystals should now be free of any negative energies and ready to use, however I often take it one step further by burning some sage and bathing the crystals in the smoke. At this point, they are ready for me to use.
There are many types of crystals of which I will be discussing in further updates to this area of the site, along with pictures as well.
CRYSTALS IN HISTORY AND MODERN TIMES
History records the use of crystals as both functional and ornamental.
The Gods of ancient myth wore them in their breastplates. Priests of many societies and brotherhoods, as keepers and preservers of lost prehistoric wisdom, often wore bejeweled amulets and plates, which acted as "oracles" and "voice pieces" from which advice was obtained. The Urim and Thummim stones of the Hebrew high priests are a prime example.
The Atlanteans used crystals for healing - communication - weather control - as record keepers - among other things.
Tibetans used them to produce light.
Mayans. among others, used crystals in their statues. John L. Stephens in his classic work on the Mayan civilization, Incidents of Travel in Central America, Chiapas and Yucatan, tells how in one small Mayan temple he discovered a pedestal formed of a shining substance resembling glass around which he was told the ancient priests gathered and consulted pictures created in the 'black, transparent stone.' He wrote, "A native informed me that their ancestors had known the gift of the vision stone, when his people were instructed in the arts of civilization."
In Peru, Spanish chroniclers recorded that when they invaded the Incan Empire and captured the King, the Queen and priests immediately fled to the Temple of the Sun in Cuzco, where they communicated with other regents of the land, and decided what was to be done, by gazing into the 'black mirror' situated at the Temple's center.
Significantly, the Incan Temple of the Sun, and the pyramid complexes of the Mayas, were all located on Earth energy lines. There is thus reason to believe that the Ancients possessed the ability of transmitting images along these lines, and crystal lenses or screens were used at specific centers to transform the images into pictures, much like a modern television set.

When we examine what modern research is uncovering regarding the full spectrum of the properties of crystals, and compare this with the Ancient knowledge, we discover we are touching upon only the very beginnings of a vast forgotten technology.

Crystals, at their simplest functional level, can store light and discharge it, or convert sunlight directly into electricity. A step beyond, the crystalline form can also store information in vast quantities. A cut sliver of crystal can pick up a specified vibratory pattern; the silver can then be 'frozen' and subsequently 'unfrozen' later to playback the pattern.
A complex sandwich of liquid crystal layers and mirrors act as light valves to create closed loops of light and moonlight signals, which correspond to a two alphabet system of information storage. By such means, information can be stored with a density of 2,500-fold over that of conventional electrical-digital computers. The first working model of the light and crystal computer is scheduled to be operational within a very short time. But one wonders if someone else, long ago, developed such a system before us. Could there be banks and libraries of knowledge stored in the crystals of standing stones, stone circles and other monuments around the world, just waiting, silently, for modern man to tap into them and learn the wisdom hidden within?
Not only knowledge, but the actual consciousness and emotional energies of psychic individuals from past ages may still reside in many ancient crystal forms. Several researchers have used crystals to capture the life force, or the vibratory pattern of a person at death.
Other experiments being conducted are said to have successfully captured a human thought within a crystal and retransmitted it back as an image. Author George Hunt Williamson, who believes that crystals played a significant role in past civilizations, expressed his opinion that crystals can think, and many standing stones have an 'intelligence within them". Masses of crystal flakes encased in a single stone may act as individual neurons passing along information from one flake to another and organize it, like a large crystal brain.
Certain individual crystals, in particular diamonds and other precious stones, can hold conscious emotional energies from a bygone era, which may be triggered from time to time, affecting their owners.
The best classic case of this is the famous Hope Diamond, and the mysterious curse attached to it. The Hope was originally part of a much larger gem called the Great Blue, later the French Blue, stolen from the temple of Rama site in India by Frenchman Jean Baptiste Tavernier in 1668. In revenge, the priests of the temple, along with the Mogul Emperor Aurangzeb, held a special rite and infused the gem with a negative consciousness or emotional pattern. Since that time, every owner of the gem, or even those who have handled it, have been subject to misfortune, tragedy or violent death. Even after the original Great Blue was cut into pieces, the Hope remaining as the largest, the curse has followed every piece, even to the present.
Interestingly, tests have shown that the Hope Diamond and its sister stones are the only blue diamonds in the world which glow like red-hot coals when exposed to ultraviolet light, and can conduct an inordinate amount of electricity.
Cursed gems are the exception to the rule, however, for in most respects, gems and crystals are generally looked upon favorably, having properties for good luck, for healing, and in aiding in psychic abilities. The positive magical quality of crystals impressed themselves upon humankind far back in antiquity, for we find among Neanderthal remains dating back to 70,000 B.C. collections of quartz stones and stone balls made of quartz crystals. Pieces of crystal have also been found in megalithic cairns, and at New Grange in southern Ireland, tiny pebbles of white granite quartz cover the entire mound above the energy-chamber.
The Druids called certain colored crystal forms ovus anguinum or glein neidr - 'serpent eggs' - who believed were created by etheric serpents of energy beneath the earth and conjugated together at the time of the midsummer sunrise. Such stones, worn about the neck, had the power of projecting one's auric field to favorably influence the aura and mind of anyone else who came within range.
Similarly, they understood that wearing crystals over certain acupuncture points of the body aided in the healthy flow of physical and psychic energies. The Emperor Tsin Shi, who reigned from 259-210 B.C., is said to have possessed at his palace at Hein-Yang in Shensi a mirror-like stone of crystal which 'illuminated the bones of the body' when a person stepped behind it. It was rectangular in shape, measuring four feet by five feet nine inches, and glowed on both sides. The placing of the hand over the heart somehow activated the stone, whereby the patient's inner parts were clearly portrayed, and diagnosis of illness could be obtained.

Two hundred and fifty years earlier, the Hindu sage Jivaka also had a large 'jewel' which 'illuminated the body like a lamp lights up a house,' and from which nothing within could be hidden by any intervening obstacle. In like fashion, the medicine men of the Hopi Indians of the American Southwest use crystals to observe the energy centers of the body, and can tell when physical currents are impeded, causing ill health. These crystals, too, have the power, when concentrated upon, to be energizers in influencing events, including forestalling bad weather.
On the Isle of Skye near Ireland, is a chapel dedicated to St. Columbus, and on the altar is a round crystalline blue stone held sacred to weather and health. Local fishermen, to appease contrary winds, bathe this stone with water and claim good results. The stone has also been applied to peoples' sides to relieve cramps.

Among the Australian aborigines of north Queensland on the Prosperine River, quarts crystals are used by the shamans to cause rain to fall. At other times, in special initiation ceremonies the aboriginal shamans are sprinkled with quartz beads mixed with water, and are thus able to see and speak briefly with spirit beings, exercise telepathy, and cure maladies.
The Ancients appear to have possessed sophisticated methods of growing and shaping crystals, in order to produce gems with specific magical properties. There are three major axis of crystal growth which can develop into any one of seven geometric systems, with lattices and facets in different ratios, producing 230 groups and variations, each one specializing in organizing, redirecting, separating, concentrating or converting applied energies.
In gem cutting, odd number facets aid in healing, while even number facets create the best energizers. In color, red, yellow, and orange stones produce energy; clear and aquamarine stones are healers; and lavender and blue-violet stones create tranquil, relaxing effects.
In crystal growth, combinations of light intensity, light color, electric current, sound, the direction of these, plus the shape and size (frequency pattern) of the container or room, will all affect the final characteristics and energy potentials of a desired stone. Recent experiments, for example, have shown that crystals grow five times faster when their supersaturated solution is subjected to frequencies of 10 to 100 cycles a second.
Manly P. Hall and other students of esoteric wisdom have also noted that many ancient crystals were produced by 'zodiacal formulae' grown at specific times, when the sun, moon and planets were in special heavenly positions. During the growth process, crystals are also highly susceptible to consciousness imprinting, whereby the meditations, through-patterns, healing energy or bioelectric field identity of the grower may be enjoined within the crystalline structure and memory.
Writer and researcher A.H. Fry tells of his experience with a woman who produced a special copper alloy by alchemically subjecting the ore to solutions of carbon and electric current, and then grew a crystal from the results. The crystal, Fry reported, possessed electrical resistance factors quite different from ordinary copper, and seemed to have tiny microscopic 'wires' embedded within it. When he attached an electrometer to the crystal, he was surprised to find it was also alive; it produced a pattern similar to that of a living plant, and reacted to outside physical and mental disturbances in the same way as Cleve Backster's experiments using a polygraph.
Fry, commenting on the Ancients' use of crystals in general, stated: "Legends occasionally mention crystals that could render invisibility (such as the one Apollonius of Tyana used before the Roman Emperor) and even cause weightlessness. They even used crystals to discover how to enter and escape time by negotiating a ninety degree angle phase shift. Was it all in the size and shape? Or did it involve mental forces and special 'live' qualities within the crystal?'
Fry also made this interesting observation, which relates the use of crystals to the Crystal of the Earth itself, and to ourselves, whose bodies are also made of crystalline forms: 'It is a literal fact that most of our planet is made up of crystals of specific shapes. The present energy problems will be a thing of the past when we start using the wondrous potential of these shapes. Even the food we eat must be converted to tiny crystalline shapes before it can pass through the tissue walls. The ancient Central American word for blood was chalchuihatl, and it literally meant, 'water of precious stones'.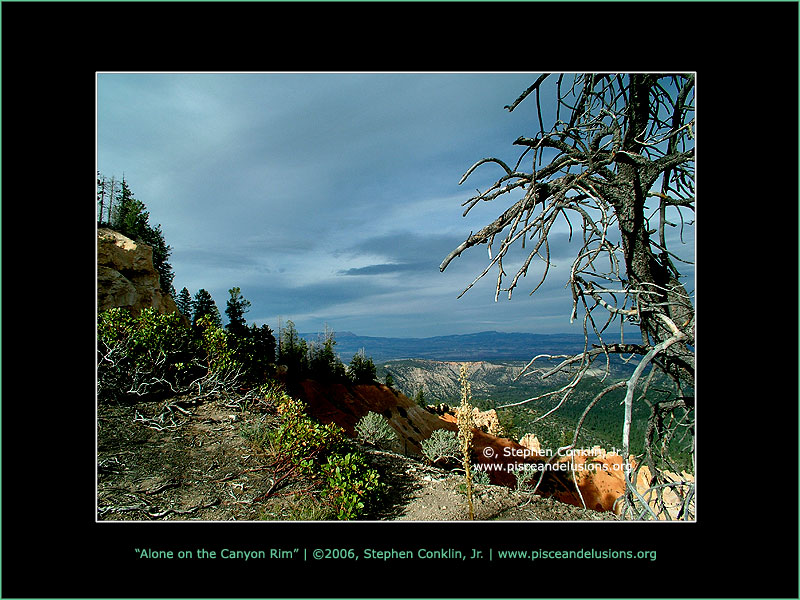 "Alone on the Canyon Rim" | ©2006, Stephen Conklin, Jr.
view larger size | order online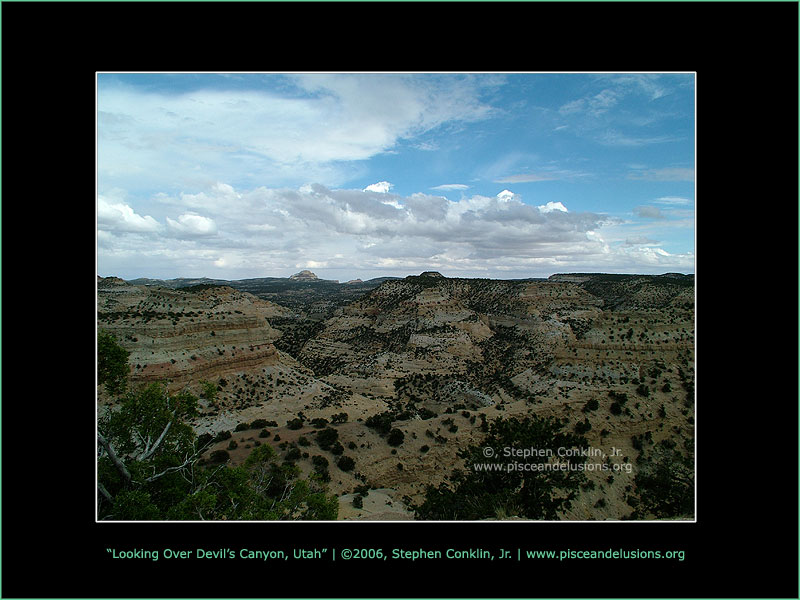 "Looking Over Devil's Canyon, Utah" | ©2006, Stephen Conklin, Jr.
view larger size | order online