The Merkaba
~ the Merkaba
see also The Merkaba Meditation by Drunvalo Melchizedek
Fairly Complete Description of the Sacred Merkaba Techniques - (special thanks to merkaba.net for the information)
The Sacred Merkaba Techniques were cognized to allow a person the magnificent opportunity to feel God's Unconditional Love every day, all day. These wondrous techniques use the energies of Unconditional Love and when used in the proper sequence, these techniques cleanse one physically, mentally and spiritually, while simultaneously expanding one's consciousness.
These techniques activate into Merkabas the spiritual energy fields which surround one's physical body. An internally, Love activated Merkaba allows one to expand their consciousness in the fastest way possible. Merkaba activations give one the ability to enjoy multidimensional experiences in this Universe and Beyond, which maximizes one's expansions of consciousness.
There are a number of spiritual energy fields which surround a person's physical body. These energy fields are in specific geometric shapes. These spiritual energy fields are one's consciousness. It is when one fully and "permanently" expands their spiritual energy fields 9 fold, that one becomes "Enlightened" at that dimensional level. The outer most spiritual energy field around one's body is associated with the highest dimensional level of our universe and the most powerful of all the spiritual energy fields. Conversely, the spiritual energy fields which are closest to one's physical body represent the lower dimensional levels of our universe.
Each individual spiritual energy field when activated into a Merkaba expands one's consciousness. Each individual spiritual energy field is associated with a different dimensional reality. The Star Tetrahedron spiritual energy field is the one closest to the human body and the spiritual energy field that most people are aware of. The Star Tetrahedron energy field represents the 3rd dimensional level and is our gateway to 4th dimensional realities.
The Star Tetrahedron is also the easiest of the spiritual energy fields around the physical body to activate. The Star Tetrahedron energy field is displayed throughout ancient cathedrals and temples all around the world. This wide spread knowledge of the Star Tetrahedron spiritual energy field indicates that at one time this field was known by people throughout the world. These knowledgeable people ranged from the Christians who built the monastery at Mount San Michael, to the builders of ancient temples in Egypt, Israel, India and Tibet.
Members of ancient mystery schools throughout the world use special spiritual exercises in order to purify themselves sufficiently so their expansions of consciousness can occur. Those initiates of mystery schools who reach high levels of consciousness are initiated in a special ceremony and given basic Merkaba activation techniques. The advanced initiates who are selected to receive these special techniques, then practice their basic Merkaba techniques every day. The daily practice of these powerful techniques results in a variety of interdimensional adventures which expand consciousness. Consciousness expansions and multi-dimensional experiences then rapidly sped up the personal spiritual evolutions and Ascensions of the advanced initiates.
These same basic Merkaba activation techniques that are used by advanced initiates in ancient mystery schools, have recently been combined with the newly cognized Advanced Merkaba techniques in order to create the Sacred Merkaba Techniques. In the Sacred Merkaba Techniques practitioners are able to access and live in the state of consciousness we know as Unconditional Love. Most people have heard the words of the song, "Love is All There Is". Well, now supporting this statement is the simple truth that only the energies of Love can activate the spiritual energy fields around a person's body into Merkabas.
The activation of a person's first spiritual energy field, their Star Tetrahedron spiritual energy field, into a Merkaba allows the person's consciousness to expand and experience the higher dimensions of this universe. Activations of the higher dimensional level spiritual energy fields around a person's body, those beyond the basic first level or Star Tetrahedron spiritual energy field, the Octahedron, etc. allow one's consciousness to expand even further. This allows practitioners to enjoy even more expansive multi-dimensional experiences. These sacred techniques give one the actual, personal experience of "Walking Between Worlds".
The Sacred Merkaba Techniques are the most powerful spiritual techniques on the planet. These amazing techniques rapidly expand one's consciousness and speed up an individual's entire spiritual evolution. The techniques are so powerful that in a single weekend peoples' physical, emotional and mental spiritual energy fields are cleansed, and consciousnesses expanded to such an extent, that in just one weekend people are able to travel with their consciousness and personally experience the wonders of the higher dimensions in this universe and beyond.
Basic Merkaba activation techniques have been used on Lady Gaia, or Mother Earth and kept secret in the great mystery schools since the beginning of time. For many thousands of years, these powerful Star Tetrahedron spiritual energy field activation techniques were only made available to those in the schools who were ready to handle the powerful energies. These powerful techniques were only given to select initiates in mystery schools who had attained high levels of consciousness. This is the usual way of spiritual evolution throughout Creation, where only a very few, only to those who are ready, are such high level techniques given. However, when the overall level of human consciousness upon Mother Earth reached the level it did at the time of the Harmonic Convergence in 1987, it meant a new era of spiritual development could begin for humanity.
This incredible feat and rise in consciousness meant that Basic Merkaba activation techniques could be released to people in the general public. It meant previously hidden secrets, heretofore only given to adept initiates in mystery schools could for the first time be released to many people. [A tribute is given here to all those who did the spiritual work during the 1960's, 1970's and 1980's that resulted in this magnificent rise in consciousness for all humanity). This rise in consciousness allowed one of the Melchizedeks, a man called Drunvalo Melchizedek, to bring forth the teachings and techniques of the basic Merkaba activations to humanity.
As a result of Drunvalo's wonderful work, a continuous advancement in consciousness occurred worldwide. By the early 1990's, more and more people had been taught by Drunvalo Melchizedek to activate their basic Star Tetrahedron energy field into a Merkaba. The activations of these people throughout the world, coupled with the spiritual work done by many others using their own spiritual techniques, resulted in the next level of consciousness being reached by humanity. Humanity reached this heightened level of consciousness in the mid 1990's. This heightened level of consciousness meant for the first time certain Advanced Merkaba activation techniques could be released to the general public.
Both Drunvalo and a man named Alton taught for a couple of years, until 1996/1997, some of the advanced Merkaba activation techniques. These men taught up to 1996/1997, the activation of 9 spiritual energy fields into 4 Merkabas. (Now in the year 2001, Sacred Merkaba Techniques Master Teachers of the Advanced Sacred Merkaba Techniques are activating 29 spiritual energy fields into all 12 Merkabas in this Universe. In addition, our Master Teachers of the Basic Sacred Merkaba Techniques now activate 19 spiritual energy fields into 8 Merkabas. In Advanced Sacred Merkaba Techniques 2 day workshops participants activate 12 spiritual energy fields into 6 Merkabas, and students of the 2 day Basic Sacred Merkaba Techniques workshops activate 4 spiritual energy fields into 2 Merkabas).
In June, 1995, a number of Celestial Beings began working directly with another Melchizedek. Their work was to work with Gary Smith and help him develop the incredibly powerful and sacred spiritual exercises known today as the Sacred Merkaba Techniques. In the summer of 1997, these Celestial Beings asked Gary to leave his CPA job and travel the world, teaching his Sacred Merkaba Techniques. The Sacred Merkaba Techniques have expanded significantly over the years as Gary Smith has cognized additional techniques from the higher levels within God's Creation.
The Sacred Merkaba Techniques workshops, which started out as half day sessions in 1997 and 1998, have now been expanded into two day intensive workshops in order to disseminate all the exciting, newly cognized techniques, modifications and information. There is now a 2 day session for the Basic Sacred Merkaba Techniques and a separate 2 day workshop for the Advanced Sacred Merkaba Techniques. In addition, there is also a 2 day session for the newly cognized Sacred Merkaba Techniques Golden Flower of Life Spherical Healing Techniques workshops.
In every Sacred Merkaba Techniques workshop, the knowledge about how to perform each of the techniques is demonstrated and then each part of the techniques is practiced a number of times. This teaching method allows all participants to be comfortable and experienced at the end of the workshop with each stage of the techniques. Everyone is encouraged to share their personal experiences and ask questions about the techniques. All questions are asked and answered within the caring and loving environment of a Sacred Merkaba Techniques workshop. Participants at the end of their workshops have all the techniques they need for their Personal Ascension. In addition, each practitioner of the Sacred Merkaba Techniques also has all the tools and techniques they need in order to help with the Ascension of Mother Earth and all of humanity. Instructions at each workshop, like the techniques, are based upon and given in Unconditional Love.
The Sacred Merkaba Techniques were cognized by Gary Smith. The Sacred Merkaba Techniques have been created to be used in a specific sequence. These wondrous techniques when imparted by a Master or Certified teacher, allows one to receive flows of God's Unconditional Love directly into their spiritual energy fields. This flow of God's Unconditional Love will instantly expand a person's consciousness. All Master and Certified teachers are trained to disseminate and impart these sacred techniques on more than the verbal level. Teachers are trained to bilocate to each of their students anytime they are needed. This bilocation relationship begins with the giving out of the Sacred Merkaba Techniques at the workshop. Bilocation allows the teacher to be within the conscious call of any of their students, any time, any of their students needs assistance during their personal meditations and/or their interdimensional travels. This bilocation relationship is based on Unconditional Love and is ever lasting.
~ additional resources on the Merkaba
"The Merkaba Meditation by Drunvalo Melchizedek"
"Worldwide Listing of Sacred Merkaba Techniques' Master and Certified Teachers"
"Worldwide Calendar of Certified Sacred Merkaba Workshops"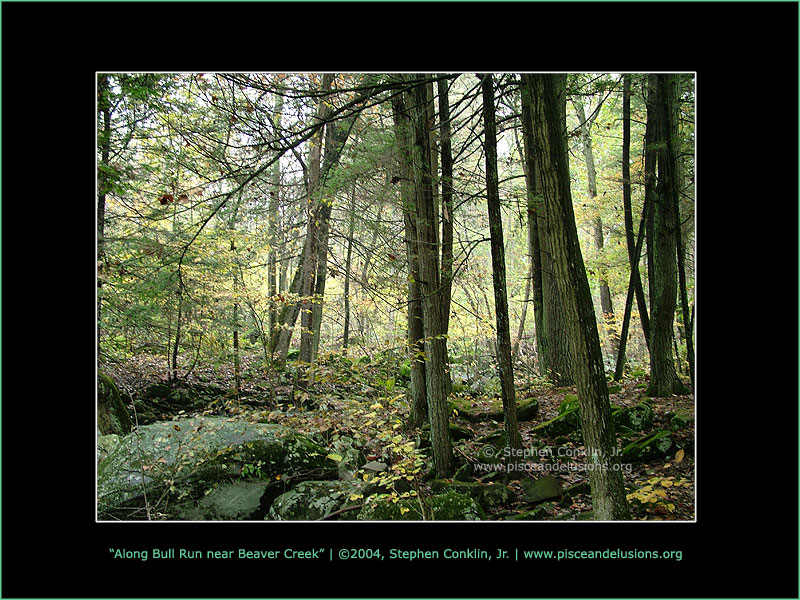 "Along Bull Run near Beaver Creek" | ©2004, Stephen Conklin, Jr.
view larger size | order online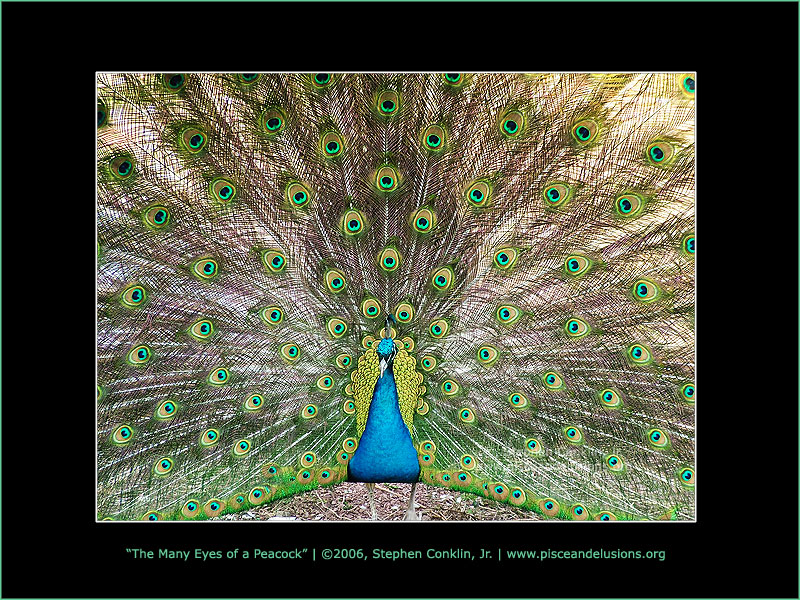 "The Many Eyes of a Peacock" | ©2006, Stephen Conklin, Jr.
view larger size | order online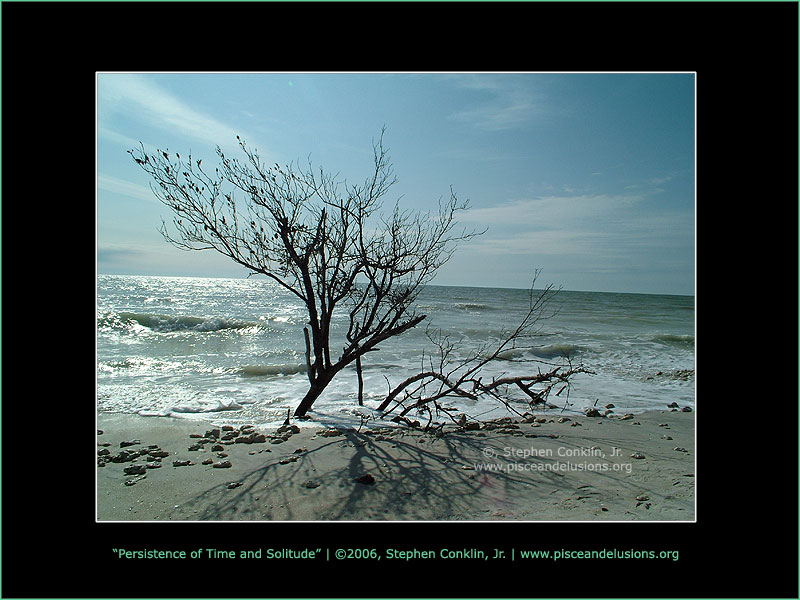 "The Persistence of Time and Solitude" | ©2006, Stephen Conklin, Jr.
view larger size | order online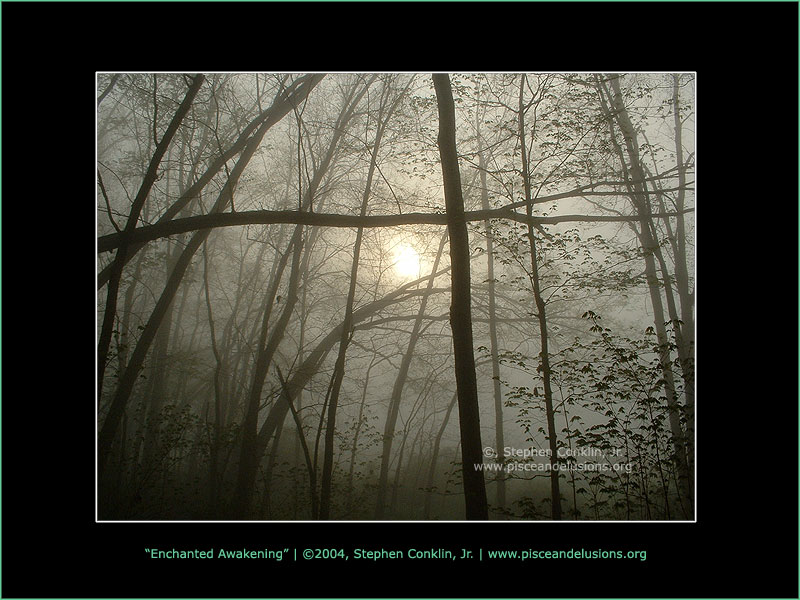 "Enchanted Awakening" | ©2004, Stephen Conklin, Jr.
view larger size | order online