media portfolio - image gallery - promotional flyers
- this gallery contains several examples of promotional flyers created by ~piscean ? delusions.
---
This is the flyer that I created for the first ever Springtime Funk Festival which was also hosted at satori farm spiritual retreat.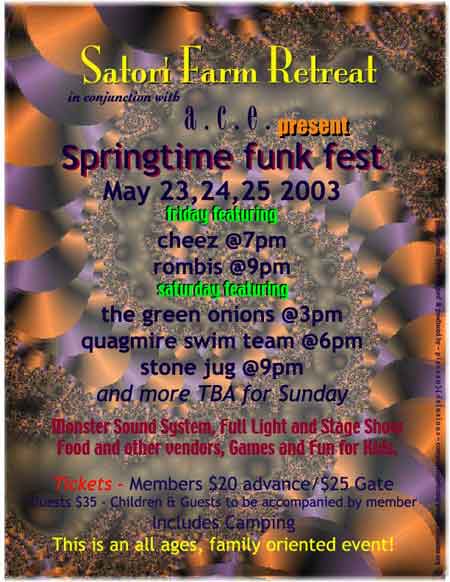 At the time of the event, this flyer was posted on a website with details of the event, all created by ~piscean ? delusions. And of course, if you clicked on the names of the bands, a new browser window opened up and took you to their websites, while the other website stayed in the background in the original window. This little trick is implemented because it always helps to retain your viewers even when they leave to follow a link.
---
Complete and custom Graphic Design Solutions from
~piscean ? delusions include but are not limited to:
business cards | promotional flyers | pamphlets & brochures
catalogs | restaurant menu's | calendars | signs & posters
receipts & guest checks | cd & album art
---
A combination of various art and imagery can be presented on several output mediums, and can easily be implemented as a complete and customized solution is seamlessly integrated to suit your needs.
Consultations are always free, so please don't hesitate to ask for my opinion on something. I will be more than happy to provide all of the information necessary in order for you to make an informed decision without obligation.
---
Thank you in advance for your considerations, and remember, your comments are always welcomed as well.
computer solutions by ~piscean ? delusions
---
return to top