Auto-biography of Stephen Conklin, Jr. - website author & digital artist
about myself:
Born in Harrisburg, Pennsylvania, on February 20th, 1977, I quickly began to take interest in art, and have experimented with it in many ways since then.

myself, 2.5 years old
When I was younger, I worked primarily with sketches and colorings. By the time I was ten years old I had an easel and painted, and when I was twelve I entered a small school of art in Mechanicsburg where I used pastels and different pencils for the first time. While in art school I had also experimented with landscape and perspective styles.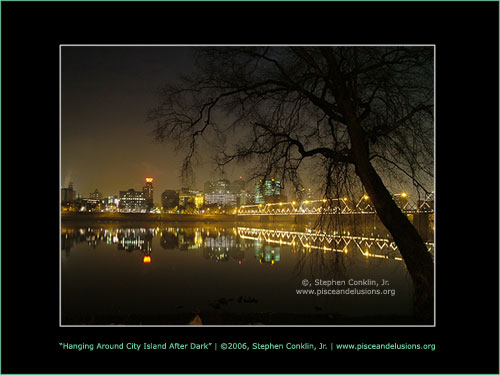 "Hanging Around City Island After Dark" | ©2006, Stephen Conklin, Jr.
view larger size | order online
During the next few years I added clay to my routine, and woodcarving as well. By the time I was fifteen I had studied architecture for more than a year, both structural and landscape, and was employed in the landscaping industry.
I am a graduate of Northern High School in Dillsburg, PA, where my interest in Digital Arts began in Graphic Arts class with Sterling Ort. It was here that I first worked with digital photography, scanners, PhotoShop and many of the tools that I still use today.
My graduation gift was a brand new Apple Macintosh computer, which I immediately began using extensively to further develop the skills I learned in Graphic Arts. I also learned HTML and developed my first website back in 1995. With HTML knowledge, I was now able to reach a worldwide audience to share my work, while incorporating imagery, photography, and video as well.
My interest in photography did not begin to fully develop until 2003 when I acquired my first digital camera. The ability to explore the capabilities of a camera without using a lot of excess film enabled me to refine the eye I was told that I had for photography.
My appreciation for nature and the serenity that can be found with in it was a major influence on my desire to regularly take pictures. I enjoy being able to capture those moments so I can share them with others. Those influences continue to drive me further.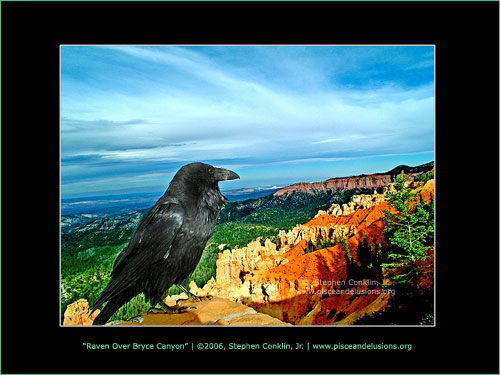 "Raven Over Bryce Canyon" | ©2006, Stephen Conklin, Jr.
view larger size | order online
Currently, my focus on photography is to demonstrate its use as a form of visual therapy while working to define that concept as well. I hope to create the kinds of photographs that will enlighten people and brighten their days, displaying them anywhere they can be seen.
Although a lot of my time is spent in recent years with the photography, I've continued to experiment with everything I have learned over the years while always trying to further my education by exploring new areas.
My interest in video work will yield more projects in the future, and my desire to paint will get me back on a canvas again when time allows. Plans for the next year include further development of my web and internet skills as well.
I approach any project with a completely open frame of mind, art is something that I feel from on the inside and the end result of my work should reflect that. I don't follow many rules or traditional methods, and I view everything as a canvas, for I feel everywhere is an opportunity to create art.
I enjoy spending my time outside with nature, grounding myself with mother earth. I enjoy collecting quartz crystals and other healing stones and herbs.
I intend to become more and more self-sufficient over the years, it is my intention to produce all of the fruits, vegetables and herbs I can. I feel that in this day and age of our existence here on Earth that it is extremely vital to our survival that we take a look at just how much we all consume and throw away over the years and make more of an effort to reuse and recycle, as well as give back some of what we take by producing more of our own food.
I really enjoy music, festivals, and other types of gatherings of like minded individuals all who have the same kind of care and appreciation for this life and all we encounter here.
I tend to try and learn today as if I'll live forever, while living the day as if I'll die tomorrow.
about my photography:
The photography part of my journey into the world of art was something that didn't really become part of my routine until around Christmas in 2003 when I received a digital camera as a gift from mom. I finally had the opportunity to go out and experiment without having to incur the costs of film developing.
I began taking pictures fairly regularly and almost immediately, my work began to gain a lot of positive attention. The feedback has continued to fuel my desire to take pictures, and I am always working to refine my eye and further my skills.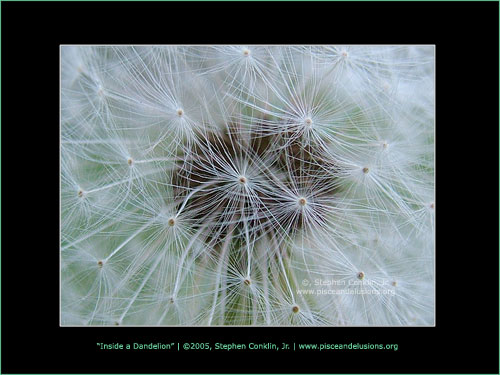 "Raven Over Bryce Canyon" | ©2006, Stephen Conklin, Jr.
view larger size | order online
My photography has been featured on BeyondSecond.com from 2003-present; at Articulture, 2004; Pinnacle Health, 2004; Midtown Scholar's Yellow Wall Hall, 2004; Jump Street, 2005; Front Street Review, 2005; Friends of Midtown, 2005-current; The Midtown Scholar's Yellow Wall Hall, 2005; Lisburn Festival 2005; The Midtown Scholar's Yellow Wall Hall, April 11 - May 25, 2006; The Patriot News "GO" section, 3 weeks in May, 2006; Dillsburg Library, August 2006; Lisburn Festival, 2006; Yellow Wall Hall Gallery, August 22nd - October 9th, 2006; Patriot News, Local Section, Sept. 11, 2006; the New Cumberland Public Library in February 2007; the Wooth Gallery in Millersburg, PA in March 2007; in Camp Hill at the Fredrickson Library, June 2007; Dillsburg Library in September 2007; Oyster Mill Playhouse in November 2007; Mechanicsburg Library in January 2008; Camp Hill Library in February 2008; New Cumberland Library in March 2008 and again in February 2009.
My photography has also been featured in numerous other installations and applications including Harrisburg Magazine, in JPL Productions CDRom for Harrisburg Regional Chamber's "Live, Work and Play in Central PA, 2004; at the National Payroll Association Convention as a backdrop for a kiosk, in the Harrisburg newspaper, on websites, and also in various other publications, exhibits, and displays in the past five years.
about my work with digital arts:
My beginnings with digital art began when I took Graphic Arts class in High School. I was always interested in computers and art, so having the two come together was really appealing to me. I instantly got absorbed into PhotoShop, and from there, it took off. I began doing simple projects and from there everything grew. All of the websites I build require extensive use of images, all of which I create on PhotoShop.
Much of my other work with digital arts can be found on various websites I've developed and still maintain over the years, such as the Bayou Bandits and WhiteBear Energies. A complete portfolio of my work can be found within this site in my photo, video, image and website galleries.
thebayoubandits.net | whitebearenergies.net
Thank you all for your continued support and interest.
Stephen Conklin, Jr., August 2006 | ~ p i s c e a n ♓ d e l u s i o n s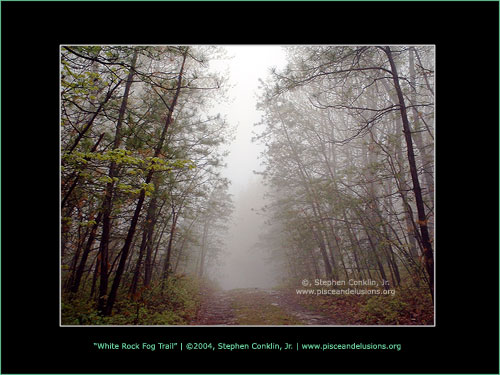 "White Rock Fog Trail" | ©2004, Stephen Conklin, Jr.
view larger size | order online